Well its been more or less 4 weeks since I posted, feels longer..
As the title says I am 16+ weeks right now. Tomarrow is my next OB appt. We will know
when
we will know the sex of the baby and if it will be Bailey Grace Elizabeth or Samual Adam.
I am still experiancing morning sickness and weight loss, well I am pretty sure about the weight loss, though I hope tomorrow I will learn I have started to gain. I am not puking daily anymore, but I am still really nausious daily, and puking every other day-every two days.
I am still faithfully taking my belly pictures, here are weeks 13, 14, 15, and 16.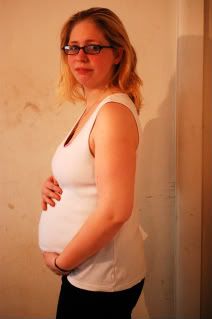 I decided to dish out a few bucks and got the
Intelligender
Gender prediction kit. Basically you pee, and if it turns orange its a girl, green its a boy. This was my result:
I finally made a baby purchase, just a little unisex sleeper, couldn't resist $2.59!
I will blog tomarrow regarding my appt.
Promise I won't ignore my blogs again!