Weeks ago before we knew the sex of the baby, I bought this for $2.49 at Xpect of all places. I brought it home and hid it in fear of cursing the baby..
Of course the
minute
I found out baby was Bailey, I could not wait to go shopping. Finally yesterday, Thomas and I got out to TJ Maxx. Thomas was so sweet! He wanted to take home
everything pink
he could reach. The one thing he loved the most was a 0-9 mo. bathrobe, which I was lucky enough to find a matching hooded towel and washcloth for.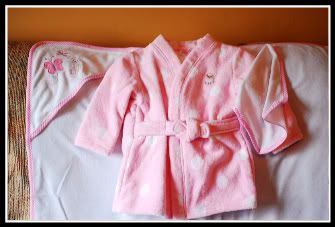 I of course am a picky pain, so wanted to only get long sleeve/pants stuff.. which is all put away for summer.. I was fortunate enough to find 7 piece set for $9.99.
Includes: Onsie, sleeper, pant/T-shirt set,
two bibs:
I found quite a few onsies that I loved. I really love the feel of the organic cotton so I got 3/$9.99 and a set of 5/$9.99. I took a photo of all 8 together, and some individual shots. The set of 5 had one in it that caught my eye that made me buy the whole set; lol!
Whole Set:
My favorite:
Tom's Favorite:
The other ones said "The world is my playground, keep it green." "I'm green" w/ a green own. "What do I want? MILK! When do I want it? NOW!" "Organic Garden fun." "Organic little ladybug." The last one is just butterflies and flowers.
The very last thing we grabbed was this 3-6 mo. outfit that Thomas loved. Well we both did, I just didn't like that I need to get a long sleep shirt/pants to go under it for Bailey to actually be able to wear it while it fits.
Bailey's 1st skirt outfit <3

It is really not much at all, not a wardrobe anywhere close here.. but it is a start. I cannot wait to shop more!!! My next goal is to hit up Once Upon A Child for some winter stuff!