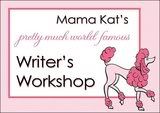 Over at
Mama Kat's this Thursday's Writers Workshop prompts had one option called, "
The most unbelievable blue eyes you've ever seen…" Of course I had to choose it.
Obviously since the hubs and I both have blue eyes, our children would have baby blue's as well. The thing with blue eyes though is they are all so different. Like I have (very small) slate blue eyes. Actually many people don't even realize my eyes are blue unless we are talking about eye color. That's how grayish they are. My hubbies eyes are lighter, but they don't pop like some blue eyes do.
Now my children..
Thomas' are like mine, but his eye shape is much larger than mine. Only when in really good sunlight, or in certain colors do his 'pop.' Thomas' eyes appear to have a story behind them. His eyes remind me of an old man with a deep past. It leads me to believe he will do something grand with his life. I really hope this false glimpse into his future holds true. He has the personality for it.
Collin's eyes almost never appear the same. Some days they are dark like midnight blue. Some, they remind me of an ocean wave. And other's they are just plain captivating. For a boy who doesn't express himself much, you can see each need and desire in his eyes. Just looking in Collin's sweet eyes makes me so impatient to hear his thoughts.
Now Bailey... Man oh man am I going to have my hands full with her. Combine her baby blues with her daddy's perfect arched brow's; she is going to be a heart breaker. She already has her daddy, both grandfathers, and every man she meets wrapped around her little finger. All she needs to do is open her eyes wide and smile, or give a pout. Everything gets handed right to her. Her eyes are the most amazing I have seen. With all three children, I would nurse them and stare into their eyes, but with Bailey.. Her gaze just holds mine for what seems like forever. I just can't ever seem to break the stare first. There is nothing I enjoy more than just staring into her beautiful eyes while nourishing her.
My children are too young to tell me what they feel is behind their blue eyes.
But for me, behind my own blue eyes, is so much more than anyone would believe.
Hopefully, within time, I will be able to write all that has happened in my past to make me who I am today..
If you want to join in on this weeks Writers Workshop head on over to Mama Kat's blog Mama's losin' it!